Hi, welcome to my house of boys where nine times out of ten one of them is walking around without a shirt on.
Carry on.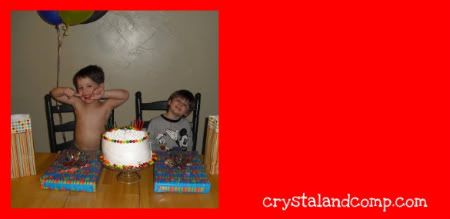 When the twins turned four in February I was on the search for a fun cake idea… and boy did I find one.
We always celebrate at home the night of our childrens' birthday and then we have a party with family and friends in the coming weeks.
So for the home birthday celebration this is what I made. The coolest rainbow birthday cake ever!
I can not take the credit. I found the idea and recipe at an awesome mommy blog- The Idea Room.
I took her version and improvised a bit.
First, take your cake batter (get the specifics from The Idea Room) and divide it into six parts.
Color each batch with dye gel like what you would use to tint icing. Your batter will look like the picture below. Then bake each color separately in a cake pan.
Once they are done cooking and have cooled, layer them from the bottom up in the order of the color of the rainbow.
Then, whip up some plain white icing. You can use the icing recipe suggested at the Idea Room, or buy the boxed stuff that you just add water to. So stinkin' simple! (I aint gonna lie- that is totally what I did!)
Ice it. Make it smooth.
Then add Skittles in the shape of a rainbow on top and use small marshmallows to make the shape of clouds.
Is this not the most adorable and fun cake ever?!?!
And then when you cut into it….everyone does the happy dance! The twins were on cloud nine! (I am so puny!)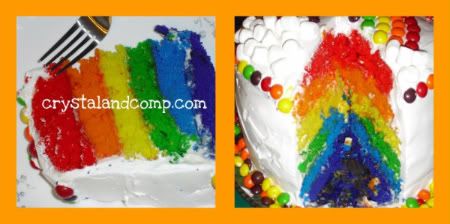 Enjoy… then prepare yourself for an adult sugar coma and stomach ache as your children rage in hyperactivity and bounce off the walls.
Totally the best birthday cake EVER! (But I already said that.)