Turkey Counting Printable Book
Are you on the lookout for a fun and educational resource for your little ones? Look no further, because our Turkey Counting Printable Book is here to help! This interactive book is perfect for preschoolers to learn and practice their counting skills while having a blast coloring adorable turkey illustrations. Not only will they have a great time, but they'll also be developing their numerical recognition and fine motor skills. Get your hands on this engaging turkey counting book today and make learning a memorable experience for your kids.
Are you a parent or caregiver looking for fun and educational activities to keep preschoolers entertained while fostering their love of reading? Look no further, because Free Printable Books for Preschoolers are here to save the day! These books are a great way to introduce your little ones to the magical world of reading without breaking the bank. You can find a wide variety of printable books online, from alphabet books to bedtime stories, so there's sure to be something to catch your child's interest. Plus, they're easy to print and assemble, making them a convenient go-to for busy parents on the go.
Free Printable Books for Preschoolers
As a parent or caregiver, introducing young children to the magical world of reading is a must. And what could be better than free printable books for preschoolers? Not only does it save your wallet from unnecessary spending, but it also offers an opportunity for customization. You can print out a variety of titles that match your child's interests and preferences.
What Are The Benefits Of Counting Books?
Counting books may seem like a typical children's book category, but did you know they actually offer a variety of benefits? For one, they teach basic math skills in a fun and playful way. Counting along with the story helps children build number recognition and develops their ability to visualize quantities. Additionally, counting books can improve language and reading skills.
Children will learn new words as they follow the story, enhancing their vocabulary and comprehension. Lastly, these books can stimulate creativity and imagination. Counting can be integrated into storytelling and inspire kids to create their own counting stories. So the next time you pick up a counting book, remember it's not just about counting – it's about learning, growing, and having fun while doing so.
How is Tracing Important for Preschoolers?
Tracing may seem like a simple activity, but it actually offers preschoolers a ton of benefits during their early stages of learning. When kids trace, it helps them develop and improve their fine motor skills, like finger and hand control. Plus, it boosts their hand-eye coordination as they follow lines with their pencil or finger. It even strengthens their grip, making it easier for them to handle writing tools as they grow.
But tracing isn't just about the physical stuff. It's also a great chance for preschoolers to explore shapes, patterns, numbers, and letters. By tracing different shapes, they get familiar with geometric forms and how they work. And when they trace patterns, they start recognizing and repeating sequences, which is awesome for their cognitive development. Tracing numbers and letters helps them practice proper formation and recognition, setting them up for success in reading and math later on.
So, by giving kids tracing activities, parents and educators are playing a super important part in their overall development. It's a well-rounded learning experience that covers physical, cognitive, and creative aspects. And this solid foundation built through tracing sets the stage for future learning and academic achievements, giving kids the confidence to excel in all sorts of subjects.
Begin a journey filled with learning and joy today with our collection of Fall Printables for Preschoolers!
Crayola 523280 Ultra-Clean Washable Crayons, Large, 8 Colors/Box
Crayola Broad Line Markers, Classic Colors 10 Each (Pack of 2)
Crayola 588106 Washable Super Tips Markers, Assorted, 20/Set
LOVESTOWN Plastic Scissors for Kids, 4 PCS Pre-School Training Scissors Children Safety Scissors Toddler Scissors Age 3 for Toddler Arts and Crafts
Ticonderoga Wood-Cased Pencils, Unsharpened, 2 HB Soft, Yellow, 12 Count
MAX USA HD-10NX/S Cute Animal Silicone Stapler (Wolf) – Special Edition (HD-10NX/S WL Stapler)
What Do Preschoolers Learn By Using Scissors?
Preschoolers absolutely love getting their hands on anything within their reach, and let's be honest, scissors are no exception. It's fascinating how this simple tool captures their attention endlessly. But here's something interesting: cutting with scissors actually plays a crucial role in your child's cognitive development and fine motor skills.
As they snip away at paper, your little ones are not only learning how to hold and control the scissors, but also figuring out the right amount of pressure to apply. It's not just about cutting; it's a chance for them to refine their hand-eye coordination as they navigate the scissors along the intended path.
And it's not just the physical benefits either. Using scissors can have a positive impact on your child's attention span and patience. With each precise cut, they're practicing focus and concentration, honing their ability to stay engaged in the task at hand. Cutting requires them to pay close attention to detail, promoting a sense of mindfulness and attentiveness.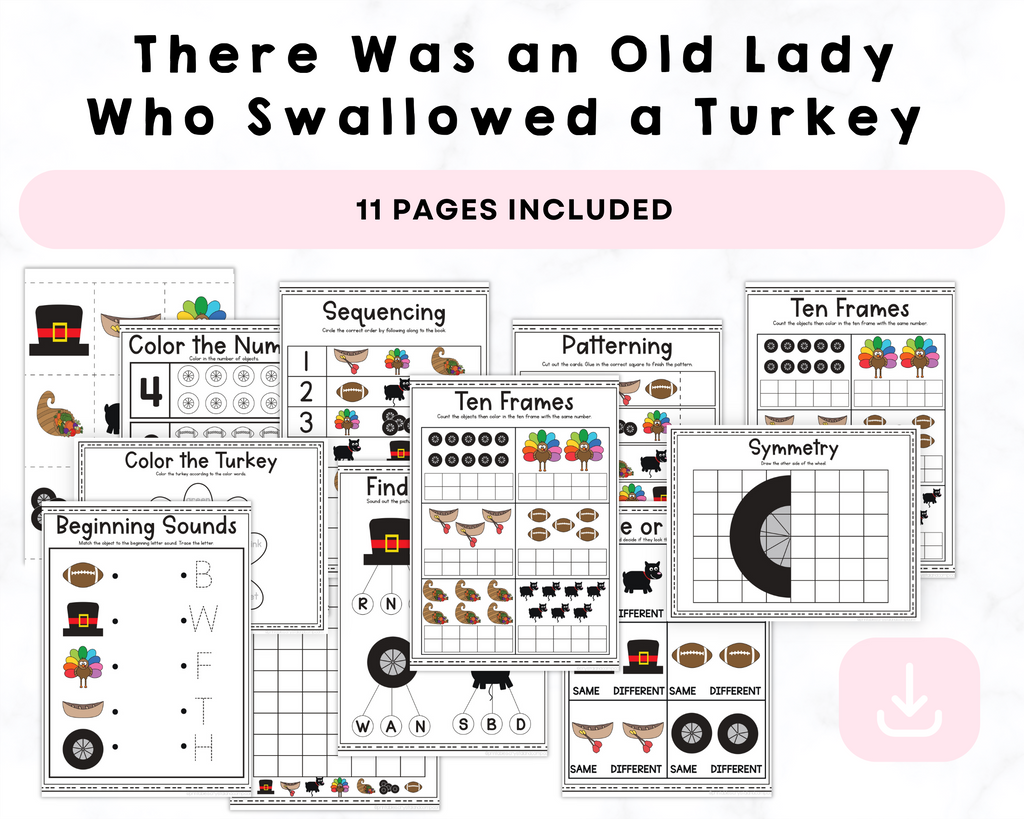 There Was an Old Lady Who Swallowed a Turkey Printable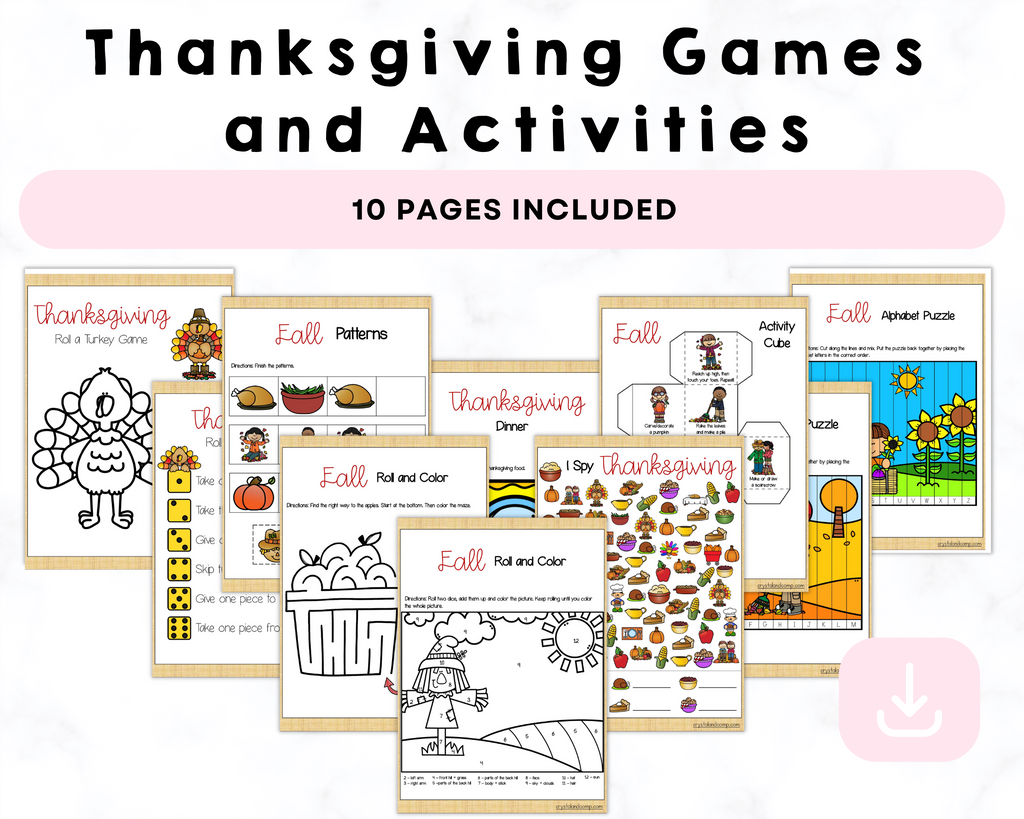 Thanksgiving Printable Games and Activities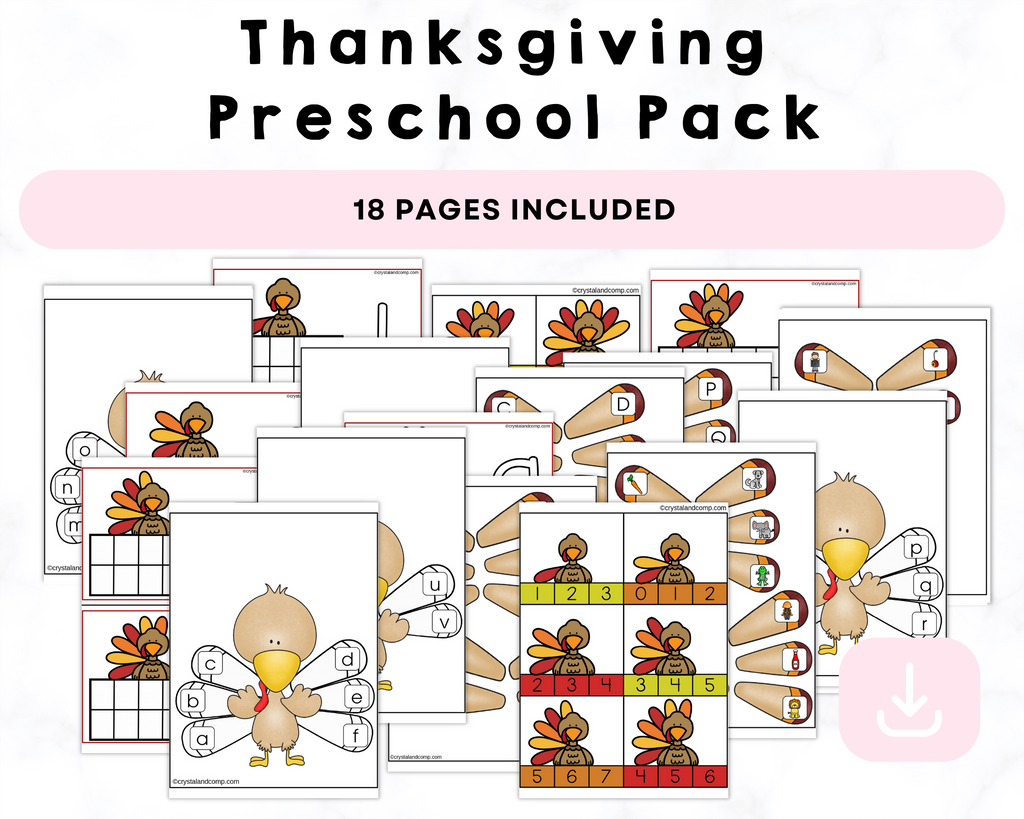 Thanksgiving Preschool Pack Printable

So, the next time you catch your child with a pair of scissors in hand, take a moment to appreciate the valuable life skills they're practicing. It's not just about cutting paper; it's about fostering cognitive growth, refining motor skills, and nurturing patience and attention to detail.
Want to incorporate another fun Thanksgiving activity when creating this printable book? I think you will love this turkey handprint craft for kids and it makes for excellent additional fine motor work for your young learner!
Preschool Counting Activities
If you are looking for some fun and interactive ways to teach counting to your little ones, preschool counting activities can be the perfect solution. With plenty of options available, ranging from counting games to counting songs and everything in between, you can engage your child in an exciting and hands-on learning experience.
What are the Benefits of Handwriting for Young Kids?
As technology increasingly dominates our lives, it's easy to overlook the value of handwriting. But for preschoolers, putting pen to paper is an important skill that aids in their cognitive development. When kids learn to write, they not only perfect their dexterity, but they also gain the ability to communicate their thoughts in a visual form. Handwriting also promotes self-expression, as well as a sense of pride in their accomplishments.
Learning to write creates a foundation for young learners to express themselves and develop lifelong learning habits that can benefit them throughout their academic and personal lives. So next time you see a preschooler with a pencil in hand, remember that they're not just practicing their penmanship, they're developing important skills that will benefit them for years to come.