Are you looking for a fun and interactive way to teach your little ones about colors? Look no further than the Acorn Printable Book! This must-have educational resource is perfect for preschoolers who are just starting to learn about the world around them. Not only will it help them learn their colors, but it will also improve their handwriting skills. Get ready to embark on a colorful educational adventure with your child with this engaging and printable book.
Are you looking for a way to engage your preschooler in reading without breaking the bank on books? Look no further than Free Printable Books for Preschoolers! With a quick internet search, you can find a plethora of options, from classic fairy tales to educational content on shapes and colors. And the best part? You can print them right from home, no trip to the library required. Not only will your little one love having their own personal library, but reading together can also foster important language and literacy skills.
Free Printable Books for Preschoolers
Are you always on the lookout for new ways to get your preschooler excited about reading? Look no further than free printable books! These books are a great way to encourage early reading skills while also providing some screen-free entertainment.
How Do Printable Books Help Preschoolers Learn Handwriting?
Learning how to write can be quite challenging for preschoolers, but printable books can make the process not only easier but also much more enjoyable! These specially designed books, when used in conjunction with guided instruction, have proven to be incredibly effective in helping young children grasp the fundamentals of writing. With engaging stories and captivating pictures, these books not only provide resources for tracing and copying letters, but also foster a love for reading and storytelling.
The repetition of tracing and copying in these books is specifically designed to help build the essential muscle memory and fine motor skills required for successful handwriting. By incorporating printable books into preschool curriculum, educators can provide a creative and effective learning tool that allows children to develop their handwriting skills while fostering a love for reading and writing.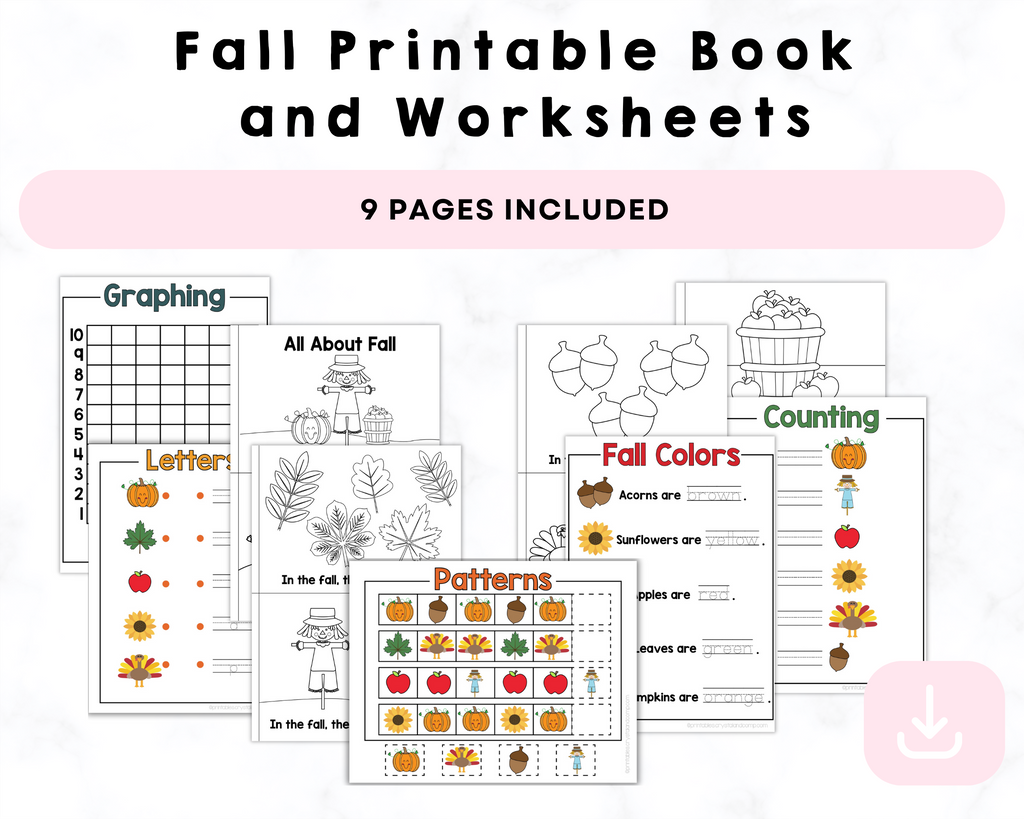 Fall Printable Books and Worksheets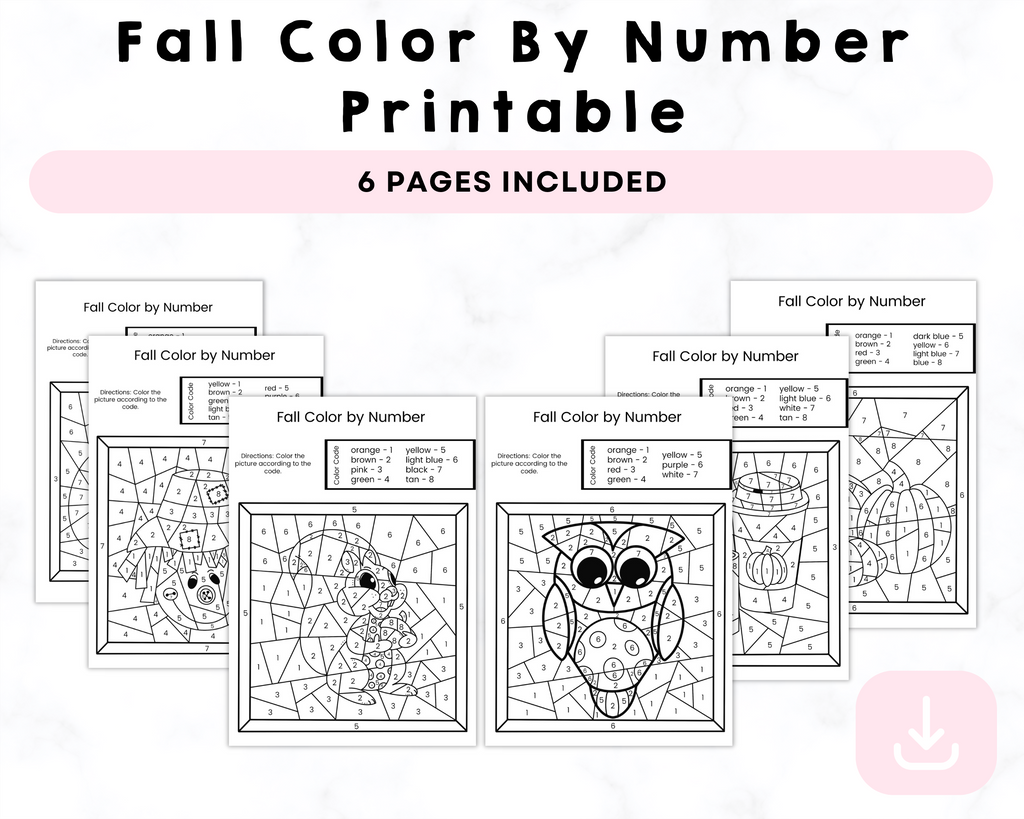 Fall Color By Number Printable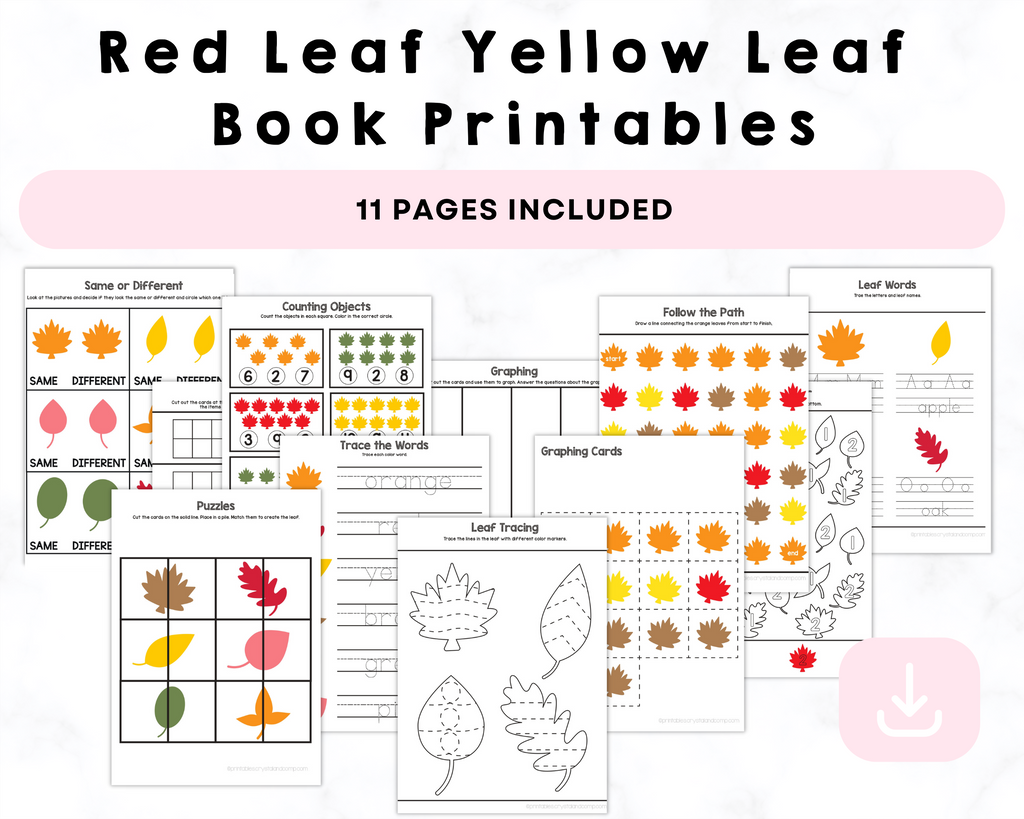 Red Leaf Yellow Leaf Book Printables

Ultimately, using printable books as a learning tool for handwriting in preschool is a wonderful way to empower children to learn, grow, and express themselves through the written word.
How is Coloring Good for Motor Skills?
Coloring is not only a fun activity that brings joy to preschoolers, but it also plays a crucial role in their overall development. When preschoolers grasp crayons, their fine motor skills are put to the test as they improve their grip and strength in their hands. These skills are essential for future tasks like learning how to hold pencils and writing.
Also, coloring helps preschoolers develop their concentration and focus as they strive to stay within the lines of the images they are coloring. This activity requires precise hand-eye coordination, which is vital for honing their writing and drawing skills in the future.
Additionally, coloring provides an excellent platform for preschoolers to express themselves creatively. It allows them to explore different colors, experiment with various strokes, and bring their imagination to life on the paper. This creative outlet not only enhances their artistic abilities but also fosters their self-expression and individuality.
Engaging in coloring activities regularly can have far-reaching benefits for preschoolers. It not only brings them joy and happiness but also contributes to their holistic development by nurturing their fine motor skills, concentration, creativity, and self-expression. So, let's encourage and support the little artists in their coloring endeavors!
Crayola Ultraclean Broadline Classic Washable Markers (10 Count), (Pack of 2)
Ticonderoga Wood-Cased Pencils, Unsharpened, 2 HB Soft, Yellow, 12 Count
Crayola Twistables Crayons, Fun Effects, Gift for Kids, 24 Count
CRAYOLA Colouring Pencils – Assorted Colours (Pack of 12) | A Must-Have for All Kids Arts & Crafts Sets | Ideal for Kids Aged 3+
Swingline Mini Stapler, 12 Sheet Capacity, includes Built-In Staple Remover & 1000 Standard Staples, Tot, Blue (79172)
LOVESTOWN Plastic Scissors for Kids, 4 PCS Pre-School Training Scissors Children Safety Scissors Toddler Scissors Age 3 for Toddler Arts and Crafts
Why is it Important for Preschoolers to Learn about Colors?
Coloring is a fun activity that makes preschoolers happy while enabling them to develop their motor skills. As they grasp crayons, they improve their grip and strength in their hands, which will come in handy when learning how to hold pencils later on. Coloring also helps preschoolers develop fine motor skills as they practice staying within the lines of the images they are coloring.
This activity requires them to focus on their hand and eye coordination, which is essential for future endeavors such as writing and drawing skills. Plus, coloring is an excellent way for preschoolers to express themselves creatively while enhancing their overall motor skills.
Coloring Activities for Preschoolers
Coloring activities are a fun and engaging way to keep preschoolers entertained and help them develop their fine motor skills. Whether it's crayons, markers, or colored pencils, there's something exciting about filling in a blank page with bright and beautiful colors.
How Do Coloring Activities Promote Cognitive Development?
Coloring activities aren't just a fun way to keep preschoolers entertained, they are also a great way to foster cognitive development! When children color, they are not only improving their fine motor skills and hand-eye coordination, but they are also practicing their ability to make decisions and problem solve. Choosing colors and deciding where to apply them on the page is a form of creative expression that stimulates the brain.
In addition, coloring can help children understand and recognize different shapes and colors, which sets a solid foundation for more complex learning later on. Overall, coloring activities may seem like a simple pastime, but it's clear that they have significant benefits for a child's cognitive development.
If the download box does not appear below, go to this link to download the acorn printable book.