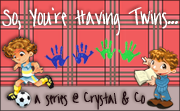 Today kicks off a week long of tips and advice on diaper bags for twins! Myself and four other mom's of twins (one mom of triplets!) will give you the low down of the diaper bags we cherished during the bag luggin' days. Some of us are still in the bag lugging days……
So Mother, bare with me as we prepare to twin -tip- it- up here at Crystal & Co this week. (In case you missed it, my mother has admitted that the twin posts just bore her to death! Oh well, she'll live!)
My diaper bag of choice is the Skip Hop Duo Double Deluxe.
This bag is designed for twins and multiples of higher order as well. Do you have little ones born close together? This is the bag for you too!
As a matter of fact, it is so well made and so durable that when Matthew was born I simply tossed it in the washing machine and started carrying it again.
There is more than ample room to carry two of everything!
I love the three pockets in the front. One has a built in pen holder and one I use for carrying my cell phone. All three have a button to secure what ever you are carrying.
Right above the three front pockets is a pouch that zips. I call it the mommy pouch. It is perfect for my money bag and makeup bag. There is even a hook for my keys. Amazing!
On the backside is a large pocket. It is perfect for me to carry a notebook in as I am on the go and take incoming calls for our business. There is a more slender pouch in the back as well which is perfect for a bottle of water to make bottles or a drink for Mommy.
On the inside there is so much room! Room for storing and toting snacks, baby food and utensils…
…and on the other side another row of deep pockets for baby wipes and diapers. (As you see in the first picture, I carry baby bottles or sippy cups in the two side pockets on the outside of the bag. These pockets also have little pulleys on them to tighten the pocket up to ensure nothing falls out.)
Inside you will find plenty of room to carry extra sets of clothes, nursing needs, bottle making needs, blankets, etc. It really is a very practical bag. And, some of the best money I have spent.
Stay tuned the rest of the week for other awesome diaper bags that worked for moms of multiples.