Turkey Number Matching Game
Turkey Number Matching Game is a delightful, interactive game designed to enhance the cognitive abilities of children. This fun-filled game combines the learning of numbers with the excitement of Thanksgiving. It is perfect for preschoolers, kindergarten and early grade level children to engage their minds and sharpen their knowledge of basic mathematics. The game is designed to introduce the concept of number identification and counting in a playful and enjoyable way.
As a parent or educator, the importance of early childhood education cannot be overstated. Children's brains develop rapidly during the first few years of life, and preschool plays a crucial role in setting a foundation for their future academic success. That's why we've compiled a comprehensive collection of Free Preschool Printables, designed to aid in your child's development and learning. Our materials cover a wide range of subjects, from basic math and literacy skills to science and social studies.
What Skills Do Matching Games Work On?
Matching games are often used as educational tools for young children to enhance their cognitive abilities. Through the use of visual and spatial recognition, matching games require children to find and pair identical objects or images. As a result, children who play matching games regularly develop a number of important skills that are beneficial to their overall intellectual and emotional growth.
Matching games work on improving a child's memory skills. By requiring them to remember specific patterns and visual attributes of objects, children engage their memory and develop their ability to recall information. This is important not only for academic pursuits but also in their day-to-day lives as remembering important details such as addresses, phone numbers, and schedules are crucial skills to have. Additionally, matching games also help children improve their concentration and attention span. Since the games require children to focus on the visuals and details of the objects, they are training their minds to focus and pay attention to detail, which is an essential skill for various tasks like reading, writing, problem-solving, and critical thinking.
Matching games also promote children's social and emotional development. These games can be played with other children and the rules of the game require children to take turns and be patient while waiting for their turn. This fosters social skills such as cooperation, sharing, and empathy, as well as emotional regulation and self-control. These skills are important for forming positive social relationships and enhancing overall emotional well-being and mental health. Matching games are a fun and engaging way for children to enhance their cognitive and social skills, ultimately setting them up for greater success in all aspects of their lives.
SINCHI 9-inch, 3-5 mil, Personal Laminating Machine for Home/Office/School, Thermal laminator Machine with Laminating Sheets Starter Kit
Uinkit Thermal Laminating Pouches Variety Small Size 5mil Thickness Card Notecard ID Badge Business Photo Size Professional Quality Dry-Erase Friendly Sheets Glossy Clear Laminator Pouch,100 Pack
Plastic Safety Scissors, Toddlers Training Scissors, Pre-school Training Scissors and Offices Scissors (3pcs) Kids Paper-Cut (60 Sheets)
HP Smart Tank 5000 Wireless All-in-One Ink Tank Printer with up to 2 years of ink included, mobile print, scan, copy, white, 17.11 x 14.23 x 6.19
Hammermill Printer Paper, Fore Multipurpose 20 lb Copy Paper, 3 hole – 1 Ream (500 Sheets) – 96 Bright, Made in the USA
3×5 Index Card Holder Card File Box Organizer, Hold 1200 3×5-Inch Flash Cards 2 Pack Black
Scroll To The Bottom To Download!
How Can We Encourage Number Recognition?
One of the critical skills children need to develop as they grow is number recognition. It is a foundational skill that is essential for understanding mathematics and other quantitative applications. Educating children about numbers can be daunting, but it is crucial to do so early on. By creating a fun and interactive learning environment, parents and educators can encourage number recognition and foster an interest in mathematics.
A child's early years are the prime time to teach them about numbers. Numbers are all around us, and children are curious by nature. Parents and educators can use this curiosity to help children develop number recognition abilities. One way to do so is by using different games and activities that are both educational and entertaining. For instance, when children play with building blocks, parents can encourage them to count how many blocks are in the stack. Using daily household items like toys, utensils, or even food items, parents can help children recognize and understand numbers. Through these activities, children can become familiar with numbers and develop an interest in counting, which is a vital step in developing their number recognition skill.
Make learning an exciting adventure for your little ones with our stimulating Fall Printables for Preschoolers.
Alongside games and activities, practical applications of number recognition are helpful. Parents and teachers can use real-life examples to help children understand how numbers are relevant in their day-to-day lives. For instance, when buying groceries, parents can ask children to look at the price tags and compare them to choose the item with the lowest cost. Parents can also use visuals like number charts, counting charts, or mathematical signs like "greater than" or "less than" to help children connect numbers to their real-world significance. By doing so, children can start seeing numbers as a tangible part of their everyday world, which can increase their curiosity and desire to learn more about them. Children can develop strong number recognition abilities, which can serve as the foundation for their future mathematical development.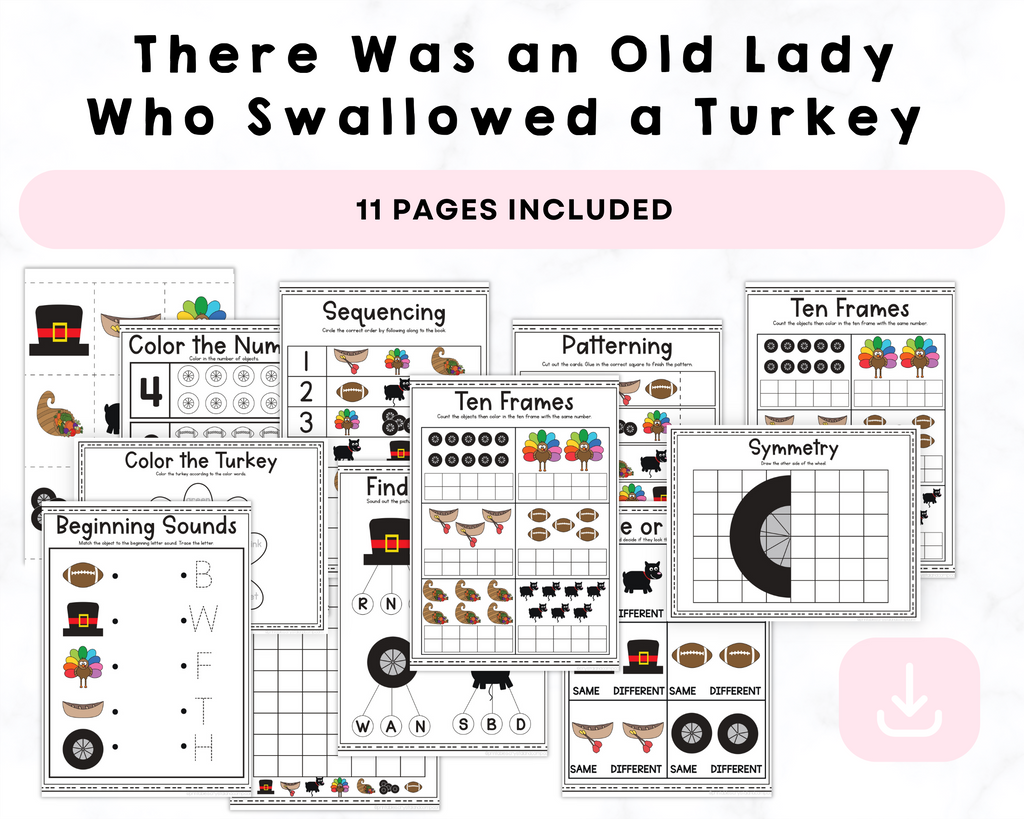 There Was an Old Lady Who Swallowed a Turkey Printable

Turkey Do a Dot Printables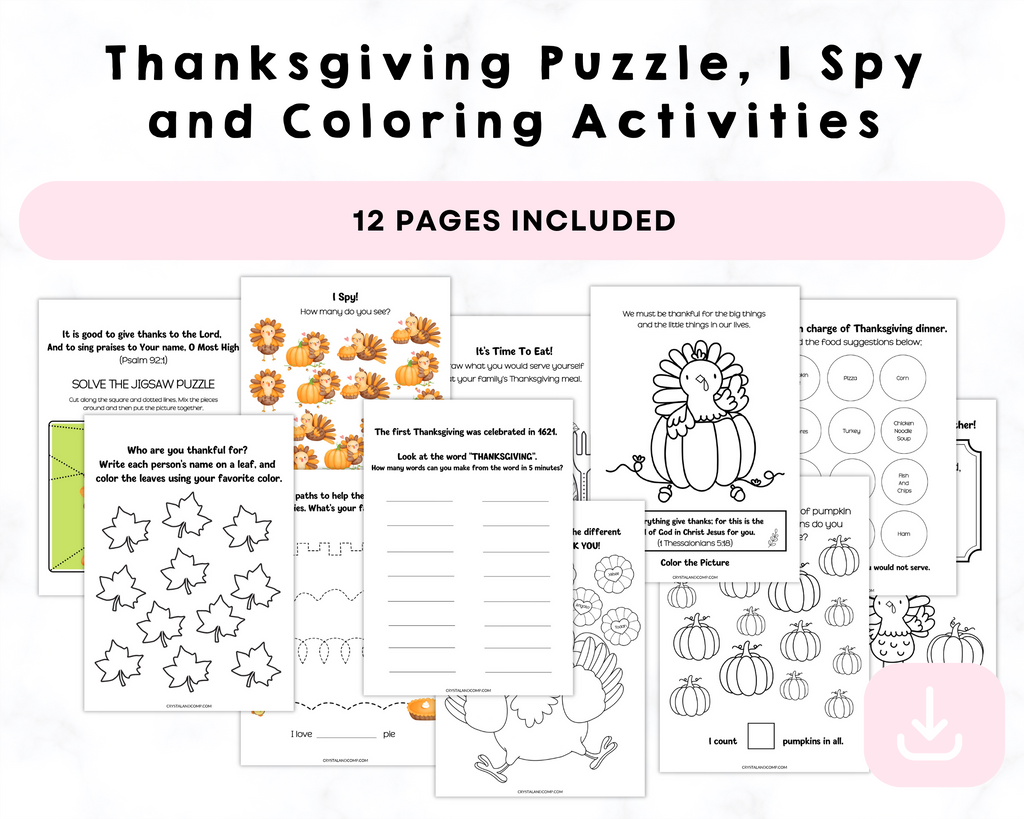 Thanksgiving Puzzle, I Spy, and Coloring Activities

Matching Games For Preschoolers
Matching games for preschoolers are educational activities that can help children develop important cognitive skills, such as memory and concentration. These games often involve matching pictures, numbers, or objects, which requires children to pay close attention to details and use their problem-solving abilities.
How Do Number Matching Games Help With Rote Counting?
Number matching games are a fun and engaging way for children to develop their counting skills. These games are designed to provide children with a hands-on experience that enhances their understanding of numbers. Rote counting can often be a challenge for young children, especially when they are trying to grasp the concept of counting beyond ten. However, number matching games provide children with an opportunity to practice counting in a structured and focused manner. This helps to build their confidence and reinforce their understanding of numbers.
The benefits of number matching games extend beyond simply aiding in rote counting. These games can also help children to develop their problem-solving skills, shape recognition, pattern recognition, and memory retention. These games come in different forms, including puzzles, board games, and digital games. The variations of these games allow children to choose a game that best suits their interests and learning styles. The use of games enhances children's motivation to learn and enhances their engagement with the subject matter, helping them to retain and apply what they have learned. Number matching games provide an effective tool to support children's learning and development of counting and math skills.
Math Activities For Preschoolers
At this age, children quickly learn through play, making fun math activities all the more important. Math activities for preschoolers should be designed to help them develop essential skills such as counting, sorting, matching, measuring, and understanding shapes.
The Turkey Number Matching Game is an engaging and interactive way for children to learn and improve their mathematical skills. By creating a fun environment where players are challenged to match the correct number of turkey feathers with their corresponding number card, the game effectively reinforces numeracy concepts such as counting, addition, and subtraction.