This is a sponsored post written by me on behalf of Maytag for IZEA. All opinions are 100% mine.
With kiddos in the house we all struggle with laundry. Come on ladies you know what I am talking about. My kids get filthy constantly. I find glue, markers and finger paint all over their clothes. I never know what will show up in my laundry baskets!
I bet your laundry room doesn't stay clear and clutter free. It seem as though we are fighting the same battle constantly. Laundry is overwhelming, tiring, life consuming, and just down right dreadful. What is even worse is that these piles of laundry literally multiply overnight including the endless stains we all work so hard to battle that result in a stamp on your kids favorite team shirt or other special wearables.
With a house full of boys we are constantly battling stains. From daily outfits to ball uniforms I am constantly fighting the good fight against stains!
Need tips for your laundry? Well check out these helpful pointers to get your laundry under control!
5 Steps to Get Your Laundry Under Control
1. Organize, Organize, Organize! This is a crucial part of laundry! Designate an appropriate area with some laundry hampers or buckets that fit your sorting needs. These are easy at controlling what needs to be washed and an automatic sorting system!
2. Create labels for your hamper sorting system. Check out this amazing Dymo Handheld Labelmaker that you can literally use for anything!
3. Recruit the troops! Involve the kids in the laundry process. This includes them putting their own clothes in the right baskets and even get the older ones to run the machine. Incorporate this into your chore chart. Perfect for taking a little personal vacay from laundry duty.
4. Everybody has a job. Designate jobs for each person. I wash, dry, and assemble the piles to put things away. Each child can put away their own fold up stuff and I always have the oldest to hang up clothes.
5. Manage your laundry according to your needs. Designate specific laundry days to keep the workload down.
If all else fails, call your mom. (I kid!)
By the way, I also have solutions for laundry detergent.

Here is my recipe for How To Make Your Own Laundry Detergent.

And, you will want this super Easy Grass Stain Removal Tips.
Maytag has been a top trusted American Home and commercial appliance brand for decades. Did you know that Maytag was the official washer and dryer company of major league baseball? Wow! So even for professionals these machines are doing the job right! Baseball is truly a pastime of America and the fall season is just beginning. Do your kids play? A lot of the boys in our family love to play baseball. Some of the highlights are the sliding, diving, and other "filthy" plays that keep boys entertained with the game. This is exactly what Maytag is looking for!
Right now Maytag is asking its fans and readers to partake in sharing photos or videos of your ball players filthiest play. There are some really great opportunities available weekly! Use the #MyFilthiestPlay on Twitter or Instagram for weekly prizes and even an opportunity to win a grand prize trip to the World Series plus a Maytag Top Load Washer and Dryer pair.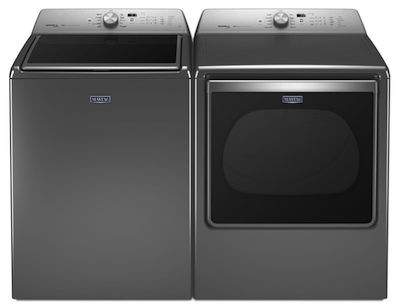 So what better way to share your best baseball photos with your Filthiest Plays of the Week with Maytag laundry!
Did you read the 10 reasons I put my front loader on the curb?