12 Fun St. Patrick's Day Crafts and Activities
St. Patrick's Day is one of those celebrations that I enjoy, but I do not have a bunch of crafty ideas up my sleeve.   I did make this rainbow birthday cake decorated with Skittles and marshmallows for  the twins' fourth birthday. It sure would be fun to make with your kiddos to celebrate the pinchy green day- in an over the rainbow kind of way!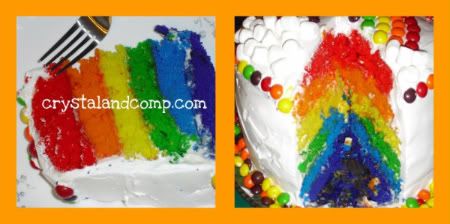 You can be directed to the step by step tutorial here. It really is easier to make than you might think and it will bring a smile to your little one's faces!
I have a few quick St. Patty's Day snacks and desserts up my sleeve that I hope we get to make this week, but in the mean time I want to share with you a few of the super fun ideas I've seen floating around the web. I know it is Spring Break week for many people, so here are some projects that will keep everyone busy.
Green Candied Popcorn– how cool is that? Skip To My Lou shares her recipe with you!
Lucky Penny Cards– you can print the cards for free, all you need is a shiny penny to tape to it. Hand them out to friends, cousins and neighbors! Make them smile.
Rainbow Pancakes–rock on! Make them for breakfast or dinner! Or, go monochromatic and make all the pancakes green. Now that is a thought!
St. Patty's Day Pops– you know how much I love to make marshmallow pops for different events. Well, this gal has made pots of gold, Leprechaun faces, green beer mugs and green hats with marshmallows. So much fun with step by step directions.
Coloring Pages– Tip Junkie has some great color sheets you can print for free to keep little ones busy. Have a coloring contest!
St Patrick's Day Hiding Game– perfect for little ones and easy to make using dollar store materials.
Leperchaun Ice Cream Cones– what kid would not want to make these? So cool.
Colorburst Cupcakes– fun just does not even describe it!
A Rainbow of Cupcakes– Liz has so many fun cupcake ideas over on her site, so of course she delivers  for St. Patrick's Day! She even shows you how to take plain vanilla store bought ice cream and turn it into rainbow ice cream with a few boxes of Jello. For real.
Little Pots of Gold– another cool project the kids can totally help you make. Inexpensive too!
Shamrock Pizza– perfect for lunch or dinner.
Rainbow Cake– your kids will love you forever!
I will be sharing this post on these crafty and resourceful sites.