If you are a teacher or homeschooler looking to supplement some sports fan fun activities into your learning routine then this Football Printable Book is perfect! This book is super easy to download, print, and assemble in just minutes. your preschooler will adore the cute design but also master things such as counting skills, literacy, and much more. This wonderful educational resource is something your young learner will truly enjoy.
Our Free Printable Books for Preschoolers are a great way to engage learning with your young preschooler. With a variety of themes and target educational areas there is something truly for everyone. These printables include learning the basics of mathematics, reading, writing, and drawing. They provide an excellent way to introduce preschoolers to essential skills that will help them build a solid foundation for academic success.
Printable Books For Preschoolers
Printable books for preschoolers are an exceptional teaching tool for parents and teachers who are looking to instill a love of reading in young children. These books offer an interactive, engaging and age-appropriate reading experience for children who are curious and eager to learn. Additionally, printable books are not only cost-effective but are also eco-friendly and provide a more convenient way to access reading material anywhere and anytime.
What Are The Benefits Of Counting Books?
Counting books are an excellent tool for early childhood education, providing a plethora of benefits to developing minds. Counting books can help promote positive attitudes toward mathematics and shape children's perceptions of math as enjoyable and accessible. Young children are naturally curious about their world, and counting books can help them make sense of the numbers and patterns they see around them.
Counting books are designed to be engaging and interactive, using bright colors, fun illustrations, and relatable stories to capture a child's attention and make learning fun. They help children learn to recognize numbers, count objects, and develop problem-solving skills. Counting books also help develop a child's language and cognitive skills by introducing new vocabulary, asking open-ended questions, and encouraging conversation. By introducing children to foundational math concepts, counting books can help build their confidence and prepare them for more advanced mathematical concepts in the future.
Koabbit – Pencil Grips for Kids Handwriting,Pencil Holder for Toddlers/Preschool 2-4 Year learning to Write, Writing aid Grip Tools for Children's Training Pen Holding Posture Correction Tools(3 PACK)
colozoo 3 In 1 Color Pencils | 12 Colors Set inc. Brush And Sharpener | Non-Toxic And Vegan Colors For Ages 3 And Up
Crayola 52-3281 Large Washable Crayons Assorted Colors 16 Count (Pack of 2)
Swingline Stapler, Desktop Stapler, 25 Sheet Capacity, Optima 25 Reduced Effort, Blue/Gray (66404)
Canon PIXMA TR8620a – All-in-One Printer Home Office|Copier|Scanner|Fax|Auto Document Feeder | Photo, Document | Airprint (R), Android, Black, Works with Alexa
Amazon Basics Multipurpose Copy Printer Paper, 8.5
Scroll To The Bottom To Download!
What Early Learning Math Skills Do Preschoolers Need?
Preschoolers have the potential to develop basic math skills that will lay a strong foundation for their future academic success. Early exposure to math concepts can facilitate cognitive development, aid problem-solving abilities, and promote critical thinking skills. It is, therefore, important to focus on increasing the number of opportunities for young children to learn about math and cultivate a positive attitude towards the subject in order to help them succeed in school and in life.
Research has shown that children can develop basic math competencies, such as counting and number concepts, as early as 18 months of age. Research also indicates that math learning experiences in early childhood can go beyond counting and shapes to include much more complex concepts, such as spatial reasoning, measurement, and pattern recognition. It is essential to include these range of concepts in any preschool math curriculum to support the mathematical development of young children. By providing opportunities for sensory exploration, play, and hands-on activities, educators can foster a love for mathematics in preschoolers, thereby setting them up for a lifetime of success in the subject.
Why Are Scissor Activities Important For Preschoolers?
Scissor activities are essential for preschoolers as they provide a multitude of benefits for their overall development. First and foremost, scissor activities help improve a child's fine motor skills and hand-eye coordination. Preschoolers need to develop these skills as it lays the foundation for other activities such as writing, drawing, and playing musical instruments. These exercises also help develop bilateral coordination, which allows them to use both hands simultaneously.
Apart from this, scissor activities enable preschoolers to improve their spatial awareness and sense of direction. They learn to cut along specific lines, curves, and shapes, which helps them understand the concept of space and how different objects can be positioned in relation to each other. Additionally, these activities help develop their cognitive skills as they need to plan out their movements and use their imagination when cutting out various shapes. This fosters their creativity, enabling them to come up with unique designs and patterns. Overall, scissor activities are a crucial component of preschool education as they help develop a child's cognitive, motor, and spatial abilities, all of which are essential for their growth and development.
Early Learning Worksheets For Preschoolers
Early learning in preschool begins with even the smallest of elements such as learning to hold a pencil. These early learning worksheets for preschoolers are a wonderful way to supplement learning and they emphasize key elements such as identifying shapes and patterns, color and number recognition, and practicing fine motor skills development.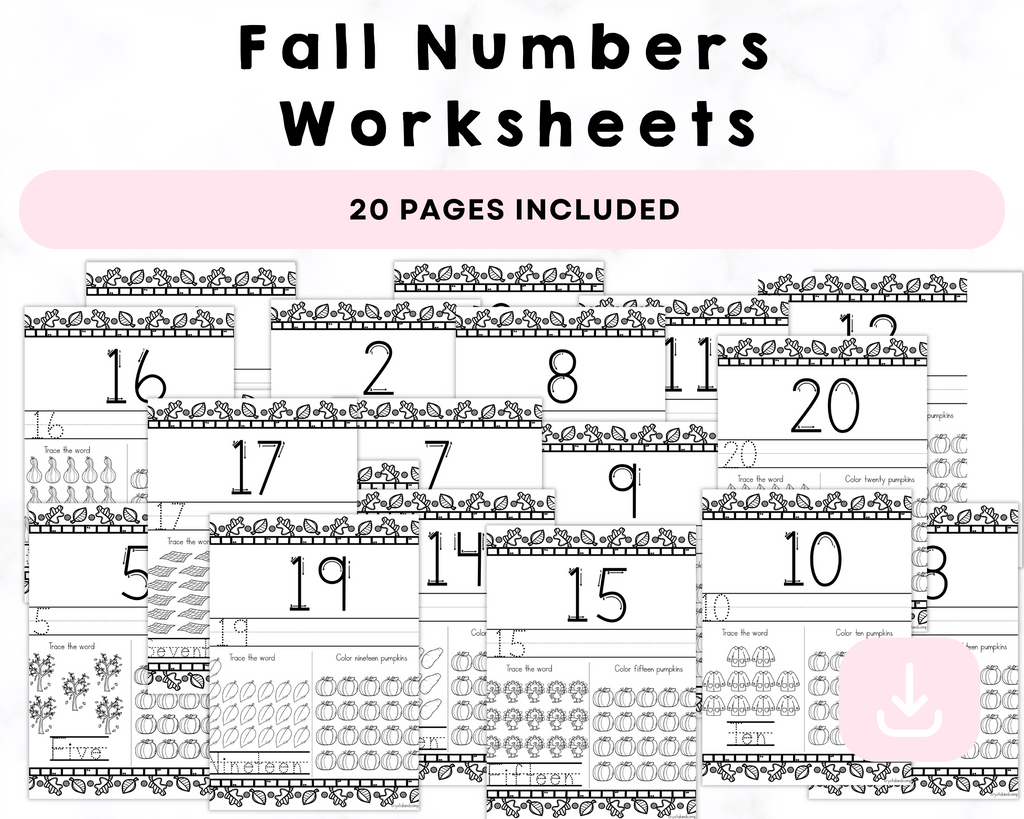 Fall Printable Numbers Worksheet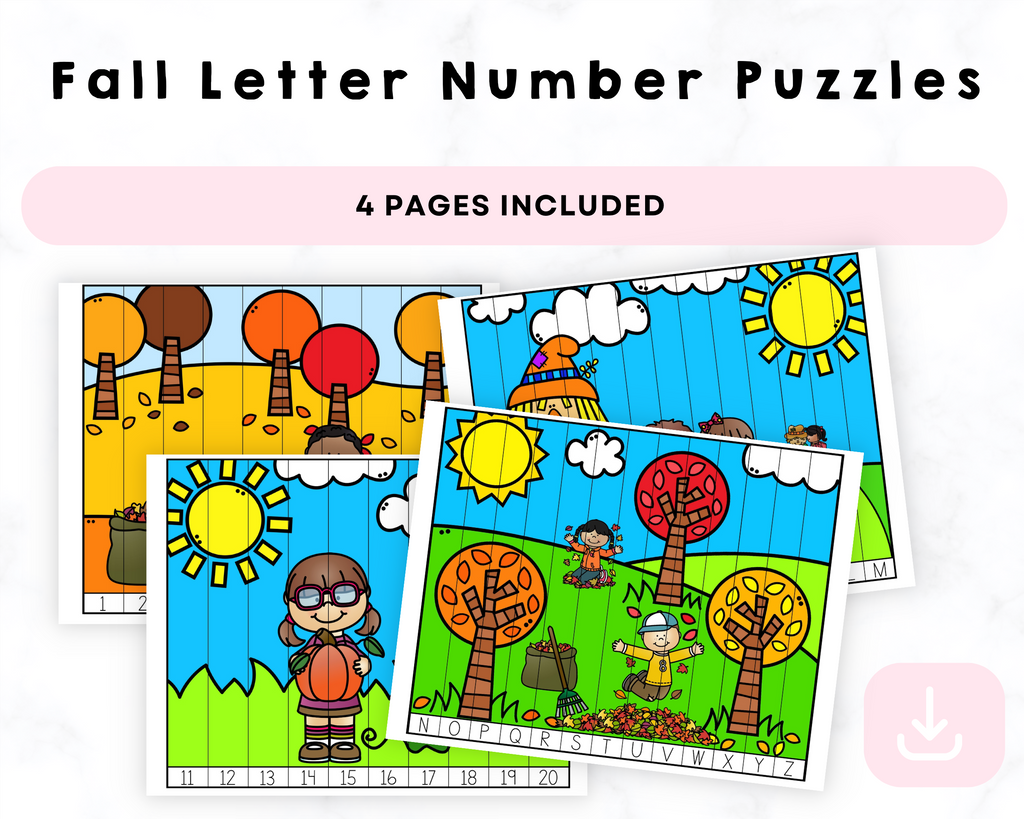 Fall Printable Letter Number Puzzles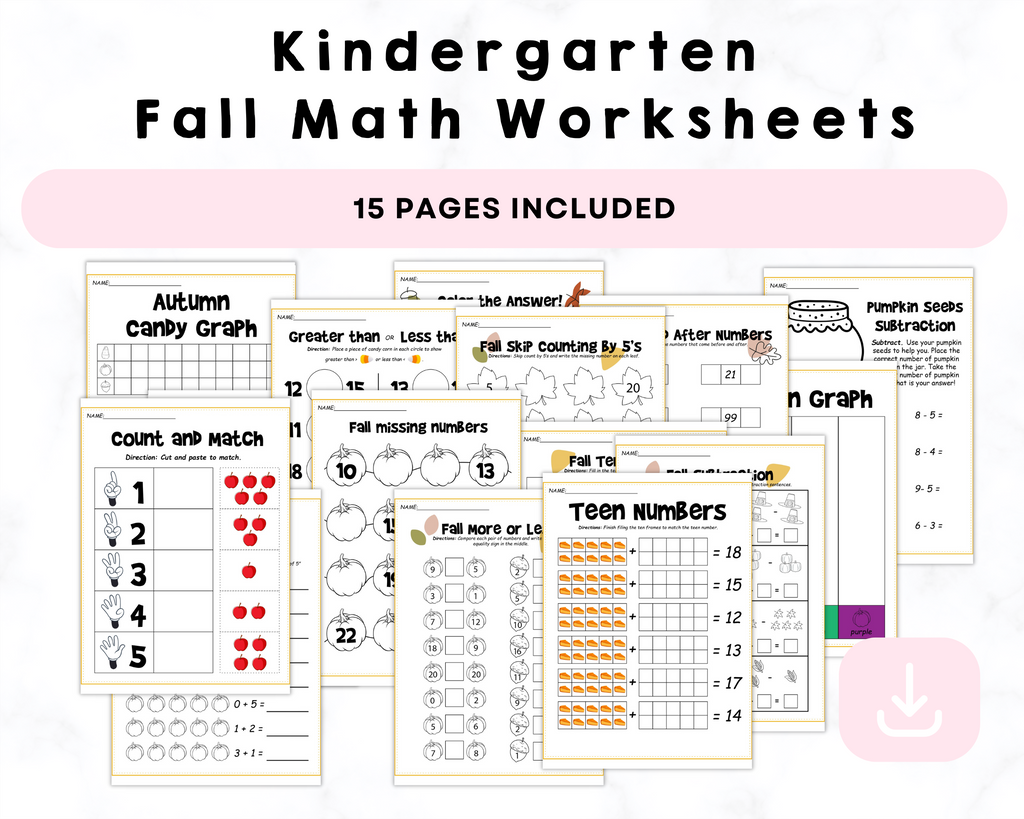 Kindergarten Fall Math Worksheet Printable

Why Is Color Recognition Important For Preschoolers?
The importance of color recognition for preschoolers cannot be overemphasized. As toddlers grow and develop, they start to observe and differentiate between different colors around them. They learn to associate colors with various objects, which increases their cognitive development and ability to identify patterns and classifications. Additionally, color recognition is an essential foundation skill that supports literacy and numeracy development. Research has shown that preschoolers who correctly identify colors improve their reading and writing ability when they start school.
Color recognition plays a crucial role in shaping a child's emotional development. It can be a tool for expressing emotions and creating connections with the world. For example, children use color to associate objects with their moods, such as blue for sadness and red for excitement. Likewise, children often find the identification of colors and the use of different colors therapeutic. They can use it to express their feelings and alleviate stress. The ability to recognize and identify colors can significantly impact a child's social and emotional well-being, enabling them to connect better with others and manage their emotions constructively. Overall, color recognition is a crucial part of a preschooler's growth and development, impacting their cognitive, emotional and social development.
This preschool printable football book offers a fun and educational activity for young children who love sports. Through engaging illustrations and simple language your child will gain a better understanding of simple math contexts, and early reading and color recognition skills. This fun and interactive book provides them with an opportunity to practice all of the elements of early preschool learning.