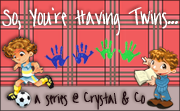 When the twins turned four back in February, I prepared posts to share each year of their life…
and then… well, life got a little busy and a post about becoming three and becoming four was put on the back burner.
Until now.
So this is a BOGO post. Buy one get one free…. but you are not buying anything. It is a recap of life with the twins as they turned the big three and my twin tip for the week- Mother's Day Out brings momma sanity and children their independence!
As the twins conquered the terrible twos it soon became obvious they needed time out of the house. Friends their age. Some structured playtime and fun learning.
The twins were cracking eggs in the living room. Putting hand held can openers in the microwave. Writing on walls….
Mother's Day Out seemed like the perfect option. We could find a program where the boys could 'go to school' two days a week for five hours a day. They would meet children their age, play, learn and grow.
When you want to keep your babies close how do you pick a school that is best for your children?
First, we waited until the twins were old enough to communicate with us. We wanted our little guys to be able to speak up if something was not right.
How do you find a school? Talk to moms you know and moms you trust. Get their personal testimony about the school they used and loved.
We picked a Mother's Day Out that came highly recommended by a friend. Both of her girls attended this school when they were little. This friend had parallel childcare expectations and beliefs as Lenny and I. This encouraged us further to visit the school she recommended.
We visited the facility with the twins in tow. We watched them play and become comfortable in the classroom.
We quickly could see the staff were there because they loved children. It was not about a paycheck, it was a passion.
After starting school we knew how much the teachers cared about them. They would share personal stories and milestones with us every day about the twins. They were so proud of each child as they progressed. You know you have great teachers when you see them loving the kids, and not just your kids. A teacher who is attentive to every little one in the classroom and not just to the children whose parents are in the room is the teacher you want taking care of your children.
The twins loved school!
Once school starts, observe how your children act when you pick them up. Watch and observe the relationship your little ones have with their teachers. If it seems strained, take note.
Luke was very social and loved making friends.
He loved learning, too. Here he is (on the right) reading with one of his favorite friends. He loved being a big boy!
Nicky loved to paint and create. We learned how much his little mind really loves details.
Nick loved packing his lunch like a big boy.
They made their own friends in the classroom (which was really important to us) but they also loved to spend time with each other at school, too.
And soon their third birthday came. We celebrated by taking yummy cupcakes to school. Luke loved blue icing…
…and Nicky loved the cupcakes with green icing.
They loved Mother's Day Out. We loved their teachers Ms. Ria (as they called her but really it was Ms. Maria) and Ms. Gayla. We could not have been at a better school with better teachers. It was an incredible school experience!