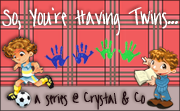 In the beginning you have these thoughts of twins always being dressed alike, outfits that are just so perfect, freshly ironed clothes that are never wrinkled.
Then reality hits you like a load of bricks. These kids are lucky they are fully dressed every day!
This weeks twin tip is about hand-me-downs. Believe me, someone somewhere is going to bring you a bag of clothes. Clothes from their little niece or nephew, or clothes that their children outgrew, or clothes from their grandchild. Never ever turn them down. People are honestly wanting to help and do a good deed.
Let me tell you why you should never turn them away.
Even if there is not two of every outfit in the bag (often times your hand-me-downs will come from a singleton child meaning there is just one of each outfit- no matching outfits) accept them.
We have received some of the best pajamas, swimsuit shorts and play clothes that were given to us as hand-me-downs. Who cares if their pajamas do not match, or their swimsuits have different designs, I promise you will soon get over it- especially as they get bigger and they have different personalities.
Make sure you go through the clothes as soon as you can. (I am guilty of taking a while and then you just have clutter…) If there are clothes that are too small, find someone else to pass them on to or take them to a local church or Goodwill. Anyone could benefit. Many times I get hand-me-downs that have girl clothes mixed in… I pass them on to one of my nieces or my friends' daughters!
Don't get me wrong, my twins are still dressed alike, but not all the time. They are four years old now. One likes Mickey Mouse and the other loves Star Wars. Let them be!
Now that the twins are older, they have just as much fun going through the clothes as I do. It is a win-win for everyone!
And always remember to say thank you!