Free Turkey Line Tracing Worksheets
Are you looking for fun and educational resources to keep your little ones entertained? Look no further! Our Free Turkey Line Tracing Worksheets are the perfect solution. These printables are not only entertaining, but they also help develop fine motor skills in preschoolers. So why wait? Download and print these worksheets today and give your child the head start they deserve! Let's explore the world of tracing lines with our adorable turkey friends. Starting with our fine motor skills, we can give our children a foundation to build on for years to come.
Preschool Handwriting Practice might seem like a simple activity, but it's actually a critical step in a child's development. Learning how to write fluently and accurately is a foundation for success in academic and personal life. Through handwriting practice, preschoolers improve their fine motor skills, their ability to concentrate, and their hand-eye coordination. At the same time, they develop cognitive abilities like memory and reasoning. And it's not just about filling out worksheets – educators often use fun, interactive methods to engage children, like tracing letters in sand or drawing letters on a whiteboard.
Preschool Handwriting Printables
Are you on the hunt for some fun and educational activities to help your little ones practice their handwriting skills? Look no further than preschool handwriting printables! These printable worksheets come in all sorts of delightful designs, from tracing letters and numbers to coloring pages featuring familiar objects and animals.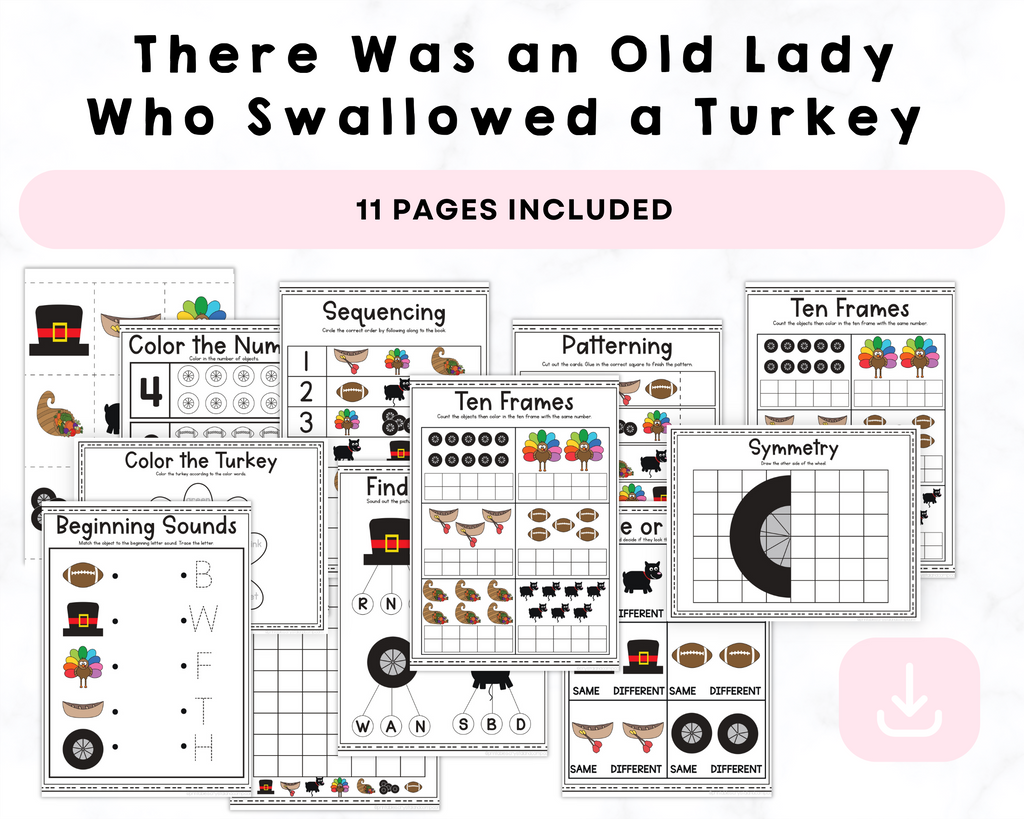 There Was an Old Lady Who Swallowed a Turkey Printable

Turkey Do a Dot Printables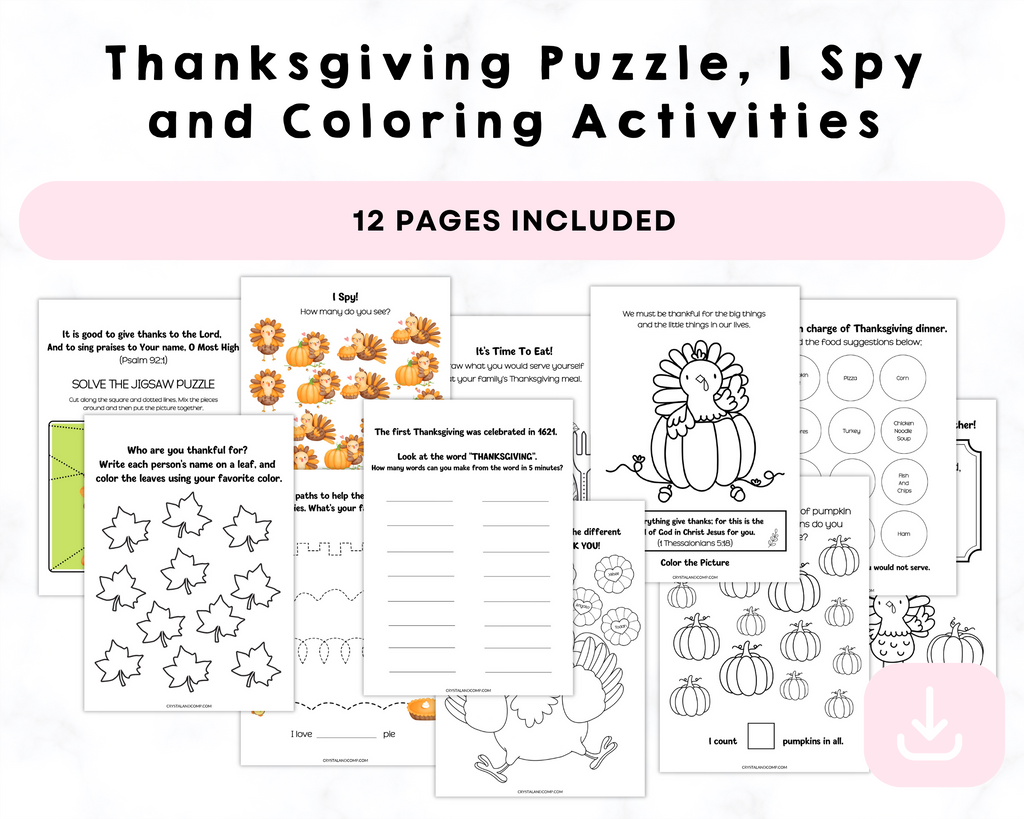 Thanksgiving Puzzle, I Spy, and Coloring Activities

Why is Line Tracing Good for Preschoolers?
Line tracing is a great activity for preschoolers, and for good reason! Not only is it entertaining for kids, but it also helps them build important skills. Through tracing lines, kids learn to control their hand movements and develop fine motor skills, which are crucial for tasks like writing later on.
Additionally, it helps them recognize different shapes and patterns, improving their cognitive development. Plus, let's be honest – there's something satisfying about seeing a squiggly line transform into a clear image. So if you want to keep your preschooler entertained while also helping them learn, line tracing is definitely worth a try!
If your young learner loves more hands on activities you should do this turkey craft with free printable with them. I think they would love it!
Scroll To The Bottom To Download
What Do Line Tracing Activities Do for Fine Motor Skills?
It's often easy to overlook the importance of fine motor skills, but these skills are actually essential for performing everyday tasks with ease and precision. From writing and buttoning shirts to operating electronics, fine motor skills play a crucial role. That's where line tracing activities come in. By engaging in line tracing exercises, children have the opportunity to develop and refine their small muscle control, which is necessary for improving their handwriting and manipulating objects with accuracy.
But line tracing activities are not just about serious skill-building; they can also be a source of enjoyment and creativity for kids. Whether they are tracing pictures of their favorite animals or practicing tracing their own names, children can have fun while simultaneously developing their fine motor skills. Who knows? With time and practice, your little one might even advance to tracing abstract art, adding a touch of personal flair to their creations. So, let's embrace the power of line tracing as a fun and effective way to enhance fine motor skills and unlock the potential for artistic expression!
Crayola 523280 Ultra-Clean Washable Crayons, Large, 8 Colors/Box
Crayola Twistables Crayons, Fun Effects, Gift for Kids, 24 Count
Cra-Z-Art Classic Washable Broadline Markers, 10 Count
Dual Brush Marker Pens for Coloring Books, Tanmit Fine Tip Coloring Marker & Brush Pen Set for Journaling Note Taking Writing Planning Art Project
Amazon Basics Premium Colored Pencils, Soft Core, 24 Count, Pack of 1, Multicolor
Crayola Erasable Colored Pencils, Kids At Home Activities, 24 Count, Assorted, Long
How Does Line Tracing Help Preschoolers Recognize Lines and Shapes?
Have you ever watched a preschooler trace a line or shape with their finger? It's truly a fascinating sight because it's evident that they're learning something new. Line tracing is a crucial part of early childhood education because it helps young children recognize lines and shapes in a tangible way. Tracing lines helps preschoolers develop fine motor skills, which are essential for writing and drawing activities.
It also helps them understand the concept of shapes and spatial relationships. By tracing lines, young children are able to see the connection between the lines and shapes they are creating. Ultimately, line tracing sets the foundation for more complex skills like writing, drawing, and reading. It's amazing how a simple activity like tracing can make such a significant impact on a child's learning and development.
Preschool Line Tracing Activities
If you're looking for fun and engaging activities for your preschooler, line tracing might just be the answer! Not only is it a great way to build fine motor skills and hand-eye coordination, but it's also a fun way for your little one to practice writing and tracing letters.
Does Line Tracing Improve Handwriting Skills?
Have you ever tried tracing a line? It might seem like a pretty simple task, but don't underestimate its power. Line tracing, a technique often used in handwriting improvement, involves following the curves and angles of a line to develop precise penmanship skills. By repetitively tracing lines, the hand becomes more adept at making controlled movements, leading to improved handwriting fluency and legibility.
Not only is line tracing beneficial for enhancing handwriting skills, but it's also a versatile activity that can be enjoyed anywhere, anytime. Whether you're sitting at a desk, waiting at a coffee shop, or even traveling on a train, all you need is a piece of paper and a pen to embark on this enjoyable and relaxing journey of line tracing. It's a wonderful way to engage your mind and focus on the rhythmic flow of the lines, allowing you to unwind and find tranquility in the process.
So, if you're looking to elevate your handwriting game and cultivate greater control and precision in your penmanship, why not give line tracing a try? Grab a few sheets of paper, find a comfortable spot, and let the smooth strokes guide your hand towards mastery. Happy tracing!
If the download box does not populate below, just click here for the Line Tracing Worksheets.