With back to school in full swing, are you struggling with getting dinner on the table? Life is busy and dinner has to get done.
I know what your family wants for dinner tonight. I do.
NEED TO SAVE MONEY
ON YOUR GROCERY BILL?
They want dinner around the table together as a family. They are not interested in a gourmet meal. They do not expect you to be the next Iron Chef. They honestly would be happy with the simplest dinner, I am willing to bet.
They want family together and they want food that fills their belly.
As a mom of many, who lives a busy, hectic life, over the last 7 years I have learned to implement five basic keys for successfully getting dinner on the table. I have written an eBook about it teaching you how to meal plan.
Right now is the perfect time for you to grab a copy of this eBook for your eReader as it is exclusively on Amazon and today only it is on sale for $0.99!! (That is a $4 savings!!)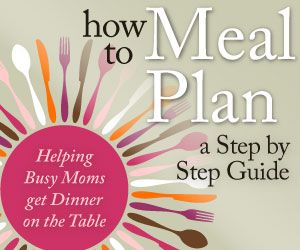 This eBook will teach you how to meal plan, while saving you money and saving you time – in 5 easy steps.If you struggle with getting dinner on the table, this is a must read.
How to Meal Plan: A Step by Step Guide for Busy Moms includes:
* how to meal plan in 5 easy steps
* a list of 20 sites to find recipes on
* how to create a grocery list (with 10 resources and tools)
* 12 ideas for displaying your menu
* pointers for implementing your plan
* tips to follow when road blocks arrive
* 5 free printable worksheets that have been custom-made for this eBook
* 14 easy recipes for two weeks of dinner ideas
* an awesome list of 10+ mommy resources for other struggles
These tips are what I have clung onto over the last 7 or so years as I found my successful groove for meal planning. While my five steps are not rocket science, hey are actionable tasks that will make all of the difference in the world for busy families struggling at dinnertime. You will walk away from this eBook knowing you CAN do this!
Get your copy that is downloadable immediately right here.