As I have mentioned ten thousand times in the last week, I am itching for fall weather.
Since I cannot change the weather, I can start cooking comfort food. Food that reminds me of fall. Crockpot recipes make life so much easier!!
Crockpot Chicken and Noodles is a go to at our house. Let me show you just how easy it is to make.
Recipes like this, that you can toss in and go, make life so much easier for busy families. I am a huge fan of slow cooker dinner dump recipes!
Ingredients:
Place the chicken breasts (frozen is ok) in the crockpot. This is one of my favorite slow cookers.
Pour the two cans of cream of chicken over top.
Pop the lid on it and cook for 4-6 hours on high or 8-10 hours on low.
While this is cooking your children and husband will tell you it smells like the best dinner they will ever have. Promise.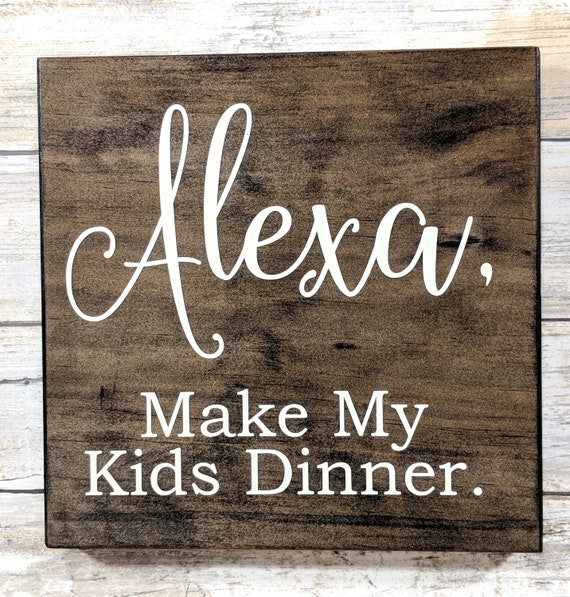 Alexa, Make My Kids Dinner Wood Sign, Pour Me Wine Wood Sign, Make Me Coffee Sign, Do The Dishes Wood Sign, Clean The House Rustic Wood Sign
from: Etsy
When the chicken is done cooking, start a large pot on the stove to boil water for the noodles.
Boil noodles according to the bag directions.
While the noodles are going, remove the chicken from the crockpot and dice or shred.
Add the can of chicken broth (or stock) to the soup that is still in the crockpot and whisk until well combine.
Add your shredded chicken back to the crock.
Drain the noodles once they are done cooking.
Toss them into the crockpot.
Add salt and pepper to taste.
Stir the noodle, meat and soup mixture until everything is well coated.
Plate it up.
If you have time, serve it with a dinner salad and hot rolls. We were starving so we just ate the chicken and noodles.
Yum!
Our Meal Planning Kits
Do you struggle with getting dinner on the table? Check out our meal planning kit! I think you will love it. We have a vertical kit and a horizontal kit.
Meal Planning Kit (Horizontal)
Here is a quick video of our delicious recipe!
Want more chicken and noodle recipes? Here are twenty five more.
25 More Chicken Noodle Recipes
SaveSave